Level:
14
Start:
Rose Thornley
Location:

Bestowal Dialogue:
'If you're not one of Sharkey's Men, as they call themselves, maybe you can help me out. Farmer Thornley's away on business, and I have no one else to turn to. All our hands have run off -- can't say I blame them -- but I'm not going to leave my land while I'm still breathing!
'Brigands have moved into the next farm over to the South, Dogwood's old place. They've stolen food, and I'm afraid that soon they're going to raid our farm here!
'You look the sort what might be able to teach those ruffians a thing or two, if you would be of a mind.'
Background:
Brigands referring to themselves as Sharkey's Men have taken over the old Dogwood farm, threatening the neighbouring steads.
Objective:
1. The brigands occupy the old Dogwood farm, south of Thornley's.
Rose Thornley's husband is away, and she is afraid the brigands at the old Dogwood farm might try raiding her stead. She has asked you to help deter them.
2. Thornley's Farm is north of the old Dogwood place. Rose Thornley awaits word of your success.
Walkthrough:

Related Quests:

Reward:
1s50c
Thornley's Bow

Data Entered By: --Stip 01:48, 26 March 2007 (EDT)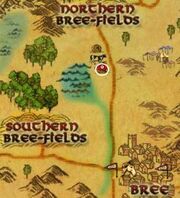 Ad blocker interference detected!
Wikia is a free-to-use site that makes money from advertising. We have a modified experience for viewers using ad blockers

Wikia is not accessible if you've made further modifications. Remove the custom ad blocker rule(s) and the page will load as expected.