Level: 09
Difficulty: Solo
Location: Stock
Start: Mat Harfoot
Bestowal Dialogue:
'The Bounders haven't been able to keep the peace as well as they used to, no offence intended, so we've organized our own little group. We call it, well, the Vigilance Committee.
'A few of us have been looking into strange doings, like that Black Rider that's been seen round about and other Outsiders who've come to the Shire lately. The thing is, one of our members has gone missing. Violet Underhill was going to look into some reports of strangers in the south of the Marish, but she hasn't come back, and I'm getting worried. I wonder if you can go down there and look for her?
'It may be that Farmer Maggot has seen her. He knows what's what around there. His farm, Bamfurlong, is south down the river road, in the Marish.'
Background:
Mat Harfoot told you that one of the members of his "Vigilance Committee", Violet Underhill, has gone missing.
Objective:
Bamfurlong, Maggot's farm, is south along the river road, in the Marish.
Mat Harfoot has asked you to look for Violet Underhill and suggested you speak first with old Farmer Maggot.
Walkthrough:

Advice:

Related Quests:

Reward: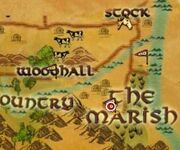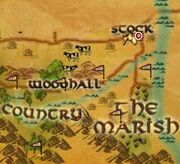 Ad blocker interference detected!
Wikia is a free-to-use site that makes money from advertising. We have a modified experience for viewers using ad blockers

Wikia is not accessible if you've made further modifications. Remove the custom ad blocker rule(s) and the page will load as expected.