Level: 40
Difficulty: Solo
Location: Rivendell
Start: Aragorn
Bestowal Dialogue:
'The time has come, Stip -- Narsil will be reforged.
'Will you accompany me to the forges? The work will take some time, but I would have you there at Andúril's making. Speak to me when your affairs are in order, and we can walk there together.'
Background:
You have returned the last of the Silithair to Aragorn, and now the time has come for Narsil to be reforged.
Objective:
1. Aragorn is inside the House of Elrond.
The Elf-smiths of Imladris will reforge the blade that was broken, and Aragorn is waiting to walk with you to the forges where it will be done.
2. Aragorn is inside the House of Elrond.
Andúril, Flame of the West, has been forged from the shards of Narsil, and Aragorn is waiting to speak with you.
Walkthrough:

Advice:

Related Quests:

The Blade That Was Broken
Reward:
8s54c
This quest has been flagged as "Requiring more data" about its rewards.
We're probably just missing a screenshot of the items, and/or their names.
Everything else should be fine. Carry on, adventurer!
If you have this information, we'd love it if you could edit the page and add it.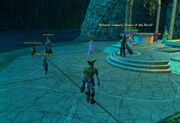 Ad blocker interference detected!
Wikia is a free-to-use site that makes money from advertising. We have a modified experience for viewers using ad blockers

Wikia is not accessible if you've made further modifications. Remove the custom ad blocker rule(s) and the page will load as expected.