Level: 14
Difficulty: Solo
Location:
Start:
Bestowal Dialogue:
'Please, help me escape from these horrible spiders! I was gathering herbs and didn't notice them stalking me. I've been trapped here for days!'
Background:
You found Bersi of Gondamon who went to gather herbs near a spider-lair and found himself trapped.
Objective:
Escort Bersi out of the spider-lair, defending him from the spiders.
Walkthrough:

Related Quests:
The Misplaced Cook

Reward:
1s50c
Estelloch

Data Entered By: --Stip 02:32, 2 April 2007 (EDT)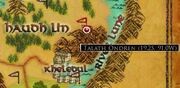 Ad blocker interference detected!
Wikia is a free-to-use site that makes money from advertising. We have a modified experience for viewers using ad blockers

Wikia is not accessible if you've made further modifications. Remove the custom ad blocker rule(s) and the page will load as expected.