Level:
04
Location:
Archet
Start:
Atli Spider-bane
Bestowal Dialogue:
'Aye, you might do. Interested in some work? See, I sent one of Jon Brackenbrook's hunters to clear out some spiders that have overrun the Old East Path west of here, but he's not returned.
'Fool probably went off to get an ale at the Mad Badger instead of doing what I asked! And he took my best axe, at that. Since the rascal's not done his job, I'll need you to go out to the Old East Path and clear those filthy spiders away from it.
'You ought to search for that hunter while you're there, in case he's actually trying to do his duty and gotten himself into a pickle. Not that I'm too worried about him, but I want that axe back!'
Background:
Atli Spider-bane asked one of Jon Brackenbrook's hunters to clear out some of the spiders which have overrun the Old East Path, but he has yet to return.
Objective:
Investigate the missing hunters disapearance and defeat the threat of spiders.
Walkthrough:
Objective 1
Defeat spiders at the Old East Path [6]
Search for the missing hunter
The Old East Path is west of the hunter's lodge.
Suspecting that Jon Brackenbrook's hunter went off for an ale instead of the duty he was hired for, Atli asked you to go in and clear out the spiders. He also mentioned that you ought to search for the missing hunter, while you were out there.
Objective 2
Bring the axe to Atli Spider-bane
Atli Spider-bane can be found out front of the Hunter's Lodge.
While clearing the spiders from the Old East Path, you found the first hunter Atli had sent out, slain by the spiders. In the hunter's hand was Atli's axe, but it was broken during battle. You should return to Atli with the ill news.
Related Quests:

Data Entered By: --Esteldir 14:41, 26 March 2007 (EDT)
Reward:
90c
Selectable Rewards: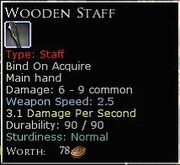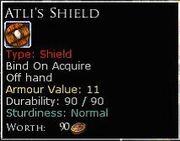 Ad blocker interference detected!
Wikia is a free-to-use site that makes money from advertising. We have a modified experience for viewers using ad blockers

Wikia is not accessible if you've made further modifications. Remove the custom ad blocker rule(s) and the page will load as expected.