Level:
08
Start:

Location:

Bestowal Dialogue:
'The Midgewater Marshes hide many dangerous creatures, as you have seen, but still Watcher Redweed insists the goblin threat is more immediate!
'I've heard the farmers complaining about finding a particularly deadly breed of spider crawling in their fields. It seems that their presence is focused somewhere between the old Marshwater Fort and the Woodsedge Ruins in the Marshes. They have overrun both those old ruins, and I worry what might happen if they decide to come to Staddle in greater numbers.
'I would appreciate it if you would lessen the threat by killing a few of those dreadful creatures and their queen.'
Background:
Watcher Reedy is still concerned that the creatures of the Midgewater Marshes pose an overlooked danger to the people of Staddle
Objective:
1. The brood-watcher presence lies between the old Marshwater Fort and the Woodsedge Ruins in the Midgewater Marshes.
According to Watcher Reedy, a deadly new breed of spider has appeared in the northern Midgewater, and she has asked you to thin their numbers.
2. Watcher Reedy can be found with her fellow watchers near Staddle town centre.
Watcher Reedy will be delighted to hear of your success against the deadly marsh brood-watchers and their queen in the Midgewater Marshes.
Walkthrough:

Related Quests:

Reward:
Watchers Axe OR Reedys Hat
90c
Data Entered By: --Stip 22:19, 26 March 2007 (EDT)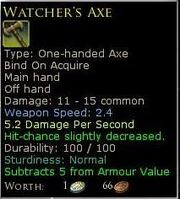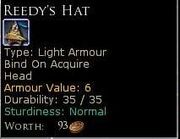 Ad blocker interference detected!
Wikia is a free-to-use site that makes money from advertising. We have a modified experience for viewers using ad blockers

Wikia is not accessible if you've made further modifications. Remove the custom ad blocker rule(s) and the page will load as expected.