Level:
12
Start:

Bestowal Dialogue:
'This land has been sullied before by the dwarves and their keep on the hill, and more recently by half-orcs and crebain. Now the stagnant waters invite the spread of pestilence by breeding filthy insects.
'These creatures are not uncommon near small bodies of water, but the large number threatening the area can only represent some unnatural force at work.
'Go north to Haudh Lin where the swarms are most plentiful and rid the land of those disease-carrying pests.'
Background:
The tranquility and protection of Duillond, the Elf-refuge, does not reach so far north as Haudh Lin and foul creatures have begun to creep into that place of peace.
Objective:
1. Insects infest the lands of eastern Haudh Lin, north of Duillond.
Laergil has asked you to kill off as many insects as possible.
2. Laergil waits on the pier of Celondim, south of Haudh Lin.
You should return to Laergil and report your success.
Walkthrough:

Related Quests:

Reward:
1s5c
Blueberry Muffins
Bronweolf
Data Entered By: Stip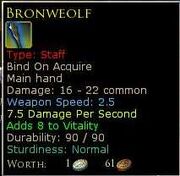 Ad blocker interference detected!
Wikia is a free-to-use site that makes money from advertising. We have a modified experience for viewers using ad blockers

Wikia is not accessible if you've made further modifications. Remove the custom ad blocker rule(s) and the page will load as expected.