Level: 14
Difficulty: Duo
Location: Bree
Start: Graeme Tenderlarch
Bestowal Dialogue:
'Listen well to my tale of woe. Long ago, my shield-brother and I swore to defend Arthedain against the Witch-realm of Angmar. But when battle came, we thought of our families and did not join the vanguard. The tide of war turned against us, and we were slain in the rout that followed. As oath-breakers, our shades lingered and fell under the sway of evil wights.
'My wight-master was recently destroyed by...by a Power, and your finding of the ring has helped me further. But to be truly free of the torments of this shadow-realm, I must see my shield-brother freed of his bonds as well.
'Please, take this ring and search the mounds in the north of the Barrow-downs. I believe I can use the ring to guide thee.'
Background:
At the behest of Graeme Tenderlarch, the Mayor of Bree, you investigated the rumour of a ghost in Bree...only to discover it was more than just a rumour.
Objective:
1. The north entrance to the Barrow-downs is just south of the Great East Road, not far from Adso Haybank's camp.
The shade asked you to search for his shield-brother in the northern Barrow-downs. He told you he will try to guide you using the ring.
2. Search the barrow for a way inside.
3. You must defeat the wight-slave. The wight-slave bragged that someone called the Bone Man has the shades of the Barrow-downs in thrall.
4. The shade's alley lies near Bree's South-gate.
You should take the ring back to the shade in Bree and tell him of your encounter with the wight-slave and of the Bone Man. The shade will not likely appear in his alley except at night.
Walkthrough:
As you get near the objective, you'll get a message on the screen telling you that you're close. A boss will spawn, and a door in the side of a hill will become clickable.
Advice:

Related Quests:

Reward:

Data Entered By: --Stip 01:32, 12 April 2007 (EDT)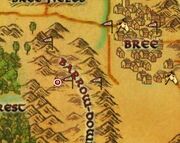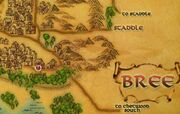 Ad blocker interference detected!
Wikia is a free-to-use site that makes money from advertising. We have a modified experience for viewers using ad blockers

Wikia is not accessible if you've made further modifications. Remove the custom ad blocker rule(s) and the page will load as expected.