Level:
08
Start:

Location: (28.9S 47.0W)

Bestowal Dialogue:
'My Uncle Filbert and I were having tea and discussing the state of things in Bree-land -- about how the folk in Archet showed the Blackwold brigands a thing or two -- when Uncle Filbert stood up and said, "Someone ought do something about these villains. I'm going to give them a piece of my mind." And then he left, without even finishing his tea!
'Up the road in the woods east of this camp, past the brigands' watchfires, there's some ruins where the Blackwolds are holed up. Uncle Filbert has probably gone there to have a word with them. Though I don't think he will make the full journey, he's not as young as he once was.
'If he has, he's likely got himself into trouble. I dare go no further to search for him, but could you go look for him and make sure he's all right?'
Background:
Posco Burrows is concerned that his uncle, Filbert Burrows, has gone deep into the Chetwood to 'have a word' with the Blackwold brigands and wants to make sure he has not gotten himself into trouble.
Objective:
1. Filbert Burrows should be somewhere along the road east of Combe heading towards the Chetwood. (28.6S 46.0W)
Posco Burrows has asked you to look for his uncle, Filbert, and make sure he is unharmed.
2. Cole Sickleleaf is at the ruins between the main Blackwold encampment and Skunkwood's Farm. (26.9S 42.9W)
You found Posco Burrow's uncle, Filbert, sitting on a stump at the crossroads in the Chetwood. He wants you to collect a handkerchief taken by Cole Sickleleaf.

3. Filbert Burrows is waiting at the crossroads in the Chetwood.
You should return Filbert Burrow's handkerchief to him and convince him to leave the area.
4. Posco Burrows is waiting for you at the Lumber Camp by Combe.
Filbert Burrows, determined to remain where he is until the Blackwolds relent, has asked you to return to Combe to tell his nephew, Posco Burrows, that he is fine
Walkthrough:
If you're facing the main Blackwold Encampment, Cole Sickleleaf will be in the smaller set of detached ruins to the far right.

Related Quests:

Reward:
2 Lesser Essence of Athelas

Walking Staff OR Took Gauntlets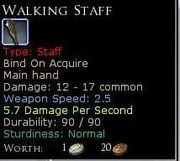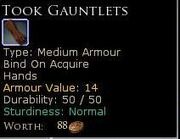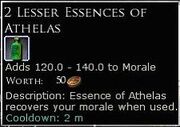 Ad blocker interference detected!
Wikia is a free-to-use site that makes money from advertising. We have a modified experience for viewers using ad blockers

Wikia is not accessible if you've made further modifications. Remove the custom ad blocker rule(s) and the page will load as expected.