Level: 07
Difficulty: Solo
Location:Combe
Start:Mason Thorne
Bestowal Dialogue:
'Let me just...hmmm...find the right page. Ah! Here we go. I see, I see. So, you stand in the field of stumps and...hmmm...take this many paces...and then that many strides...of course! I remember! The Hanging Tree was the south-east-most tree in that bunch. It was standing there closest to the Staddle Falls!
'Now just...hmmm...go back to that Stump field and you'll find that thing you wanted. What was it you wanted, again? You were digging for something, right? Here, take this pickaxe, it'll make it easier to dig. Least I could do, you finding my ledger!'
Background:
Mason Thorne's ledger revealed the location of the old Hanging Tree. Now you can search for Ted Pickthorn's treasure.
Objective:
1. The south-easternmost stump in the stump field, the one closest to Staddle Falls, was once the Hanging Tree.
After reading through the ledger you recovered for him, Mason Thorne was able to point you to the location of the Hanging Tree.
2. Ted Pickthorn is on the east side of Combe.
Following Thorne's instructions, you found the stump of the Hanging Tree. You dug up something buried beneath the stump, but it is not what Ted Pickthorn had led you to believe. His father's treasure appears to be a pair of old boots.
Walkthrough:

Related Quests:

Reward:
90c
Picks Hammer OR Pickthorn's Boots
Data Entered By: --Stip 22:12, 26 March 2007 (EDT)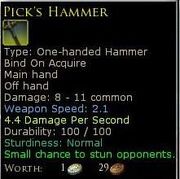 Ad blocker interference detected!
Wikia is a free-to-use site that makes money from advertising. We have a modified experience for viewers using ad blockers

Wikia is not accessible if you've made further modifications. Remove the custom ad blocker rule(s) and the page will load as expected.