Level:
08
Start:

Location:

Bestowal Dialogue:
'Staddle is a tranquil place, or normally so. Recently however, the guards and constables have been fearful of the Midgewater Marsh and the tall-folk moving into ruins in the south.
'If you continue following the road to the south, you'll find Staddle centre. Talk to Watcher Redweed there and tell them that I sent you on to help!'
Background:
Lolo Wendingway mentioned that the people of Staddle are dealing with some peculiar goings-on and told you to visit Watcher Redweed for more information.
Objective:
Watcher Redweed can be found in Staddle centre.
Lolo Wendingway advised you to seek out Watcher Redweed to help out with troubles brewing in the surrounding areas.
Walkthrough:

Related Quests:

Reward:

Data Entered By: --Stip 16:26, 26 March 2007 (EDT)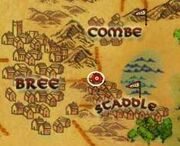 Ad blocker interference detected!
Wikia is a free-to-use site that makes money from advertising. We have a modified experience for viewers using ad blockers

Wikia is not accessible if you've made further modifications. Remove the custom ad blocker rule(s) and the page will load as expected.