Level: 12
Difficulty: Solo
Location:
Start:
Bestowal Dialogue:
'Are you looking for work? Well, it's not much, but maybe you can do me a favour. I borrowed these notes on the Old Forest from Farmer Maggot, and I really should return them. Perhaps you would be willing to take them for me?
'You can find Maggot's farm in the Marish. That's the Green Hill Country in the Shire across the Brandywine River. Cross the Brandywine Bridge and turn south on the river road. His farm won't be far away.
'Farmer Maggot doesn't like trespassers, but he's a good enough sort when you get to know him.'
Background:
Celandine Brandybuck borrowed some notes on the Old Forest from Farmer Maggot, a resident of the Marish in the Shire. The time has come for her to return them.
Objective:
Farmer Maggot's farm is south on the river road, on the western side of the Brandywine Bridge.
Celandine Brandybuck has asked you to return the notes she borrowed from Farmer Maggot on her behalf.
Walkthrough:

Advice:

Related Quests:

Reward:
1s5c
Cyrymaib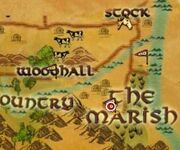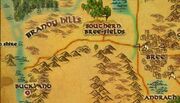 Ad blocker interference detected!
Wikia is a free-to-use site that makes money from advertising. We have a modified experience for viewers using ad blockers

Wikia is not accessible if you've made further modifications. Remove the custom ad blocker rule(s) and the page will load as expected.