Level: 06
Difficulty: Solo
Location: Hobbiton
Start: Shirriff Smallburrow
Bestowal Dialogue:
'Welcome to Hobbiton, name. It's always nice to see new folk, and I think it's important to strengthen the bonds of friendship. I think you should call on Bounder Chubb in Needlehole and see if he has any work that needs doing. Needlehole has become such a busy place that it may require its own Shirriff soon!
'Needlehole is due north of Michel Delving, some distance past Little Delving, north-west of here. Don't be surprised if you find some dwarves there -- Needlehole is on the road to Ered Luin, and we've had more dwarf-traders coming through that way of late.
'You'll probably find Bounder Chubb on duty near the entrance to town.'
Background:
Shirriff Smallburrow believes you should become acquainted with the other Shirriffs and Bounders.
Objective:
Bounder Chubb can be found on duty near the road leading into Needlehole, due north of Michel Delving, north-west of Hobbiton.
Shirriff Smallburrow has asked you to travel to Needlehole and offer your services to Bounder Chubb.
Walkthrough:

Advice:

Related Quests:

Reward:
42c
Chubb's Helmet OR 3 Cooked Carrots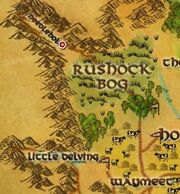 Ad blocker interference detected!
Wikia is a free-to-use site that makes money from advertising. We have a modified experience for viewers using ad blockers

Wikia is not accessible if you've made further modifications. Remove the custom ad blocker rule(s) and the page will load as expected.