Level: 08
Difficulty: Solo
Location: Tuckborough
Start: Esilia Took
Bestowal Dialogue:
'Oh dear. Well, it seems Gerebert may have gotten himself into a bit of a pickle. The last entry in his journal says that our fool cousin Pippin dared him to hide on one of Longo Burrow's waggons going east. The strangest thing is that this was written some time ago -- Pippin has been away in Hobbiton -- and Longo's farm isn't that far away.
'Hmm, perhaps you should speak with Longo to see if he's seen Gerebert. Longo's farm is on the Stock Road east out of Tuckborough.
'The more I think about this, the more concerned I get for poor Gerebert!'
Background:
Esilia Took discovered from her cousin's journal that Gerebert was dared to hide on the waggon of a local pipeweed farmer, Longo Burrow, as it went east. She is becoming more concerned, as the entry in the journal was written some time ago, and Longo Burrow's farm is not that far away.
Objective:
Longo Burrow is at his farm on the Stock Road, east out of Tuckborough.
Upset greatly by her cousin's disappearance, Esilia Took has asked you to speak with Longo Burrow to learn if he has seen Gerebert.
Walkthrough:

Advice:

Related Quests:

Reward: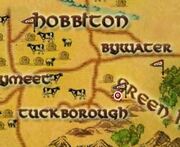 Ad blocker interference detected!
Wikia is a free-to-use site that makes money from advertising. We have a modified experience for viewers using ad blockers

Wikia is not accessible if you've made further modifications. Remove the custom ad blocker rule(s) and the page will load as expected.