Level: 08
Start:Watcher Redweed
Location:Staddle
Bestowal Dialogue:
'Gammy Boggs, one of the older Hobbits here in Staddle keeps tabs on all the Hobbits on the farms east of the town centre. If you find yourself on the road east, look to the north at the second farm and you'll find Gammy looking out over the rolling pipeweed farms.
'She's always got something to say to passers-by and likely will want something done.'
Background:
Watcher Redweed mentioned that one of the older Hobbits, Gammy Boggs, always bends his ear about the goings-on of the farms of Staddle east of the town centre. She might know a thing or two that needs doing out near the farms.
Objective:
Gammy Boggs lives on the second farm north of the road east from the centre of Staddle.
Walkthrough:

Related Quests:

Reward:

Data Entered By: --Stip 16:29, 26 March 2007 (EDT)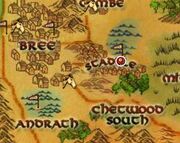 Ad blocker interference detected!
Wikia is a free-to-use site that makes money from advertising. We have a modified experience for viewers using ad blockers

Wikia is not accessible if you've made further modifications. Remove the custom ad blocker rule(s) and the page will load as expected.