Level: 07
Difficulty: Solo
Location:Archet
Start:Cal Sprigley
Bestowal Dialogue:
'Them spiders have et my workhands and driven me and Holly out of our home. There's got to be some way to get 'em off our land!
'I would think that Atli Spider-bane might know more about spiders than I do. Perhaps you should go speak with him again.
'We can't return home until those awful things are gone!'
Background:
Cal Sprigley's farm has been overrun by spiders for no apparent reason, leaving Cal and Holly homeless in Archet.
Objective:
1. Atli Spider-bane can be found just north of Cal Sprigley.
Cal Sprigley suggested that you speak with Atli Spider-bane about the spiders at his farm and how to be rid of them.
2. The entrance to the cave the hunters blocked off lies in the ruins due east of Archet.
Atli told you that he sent his cousin Bali to check the caves, but he has not yet returned. If you find him, he may have the answer to what has disturbed the spiders.
3. The missing pages of Bali's journal must be somewhere within the caves. The spiders may have taken the missing pages and webbed them into their cocoons.
You have found Bali's corpse and his journal, but the journal is missing several pages. You need to find the pages before returning to Atli.
4. Atli Spider-bane can be found at the north end of Archet.
Atli Spider-bane will want to know what you discovered amongst the pages of Bali's journal.
Walkthrough:
Head to the ruins west of the Hunters Lodge. Go past the Hunter NPC. The corpse will be to your left. There is an alternate entrance way over in Sprigley's Farm.
The missing pages are in the cocoons in the cave. There are a couple parts of the cave that turn into "human areas". If you come to one of these, you're going too far in. All of the cocoons are located in the caves - mostly working your way to the left.
Related Quests:
Spider-bane
Reward:
90c
Data Entered By: --Stip 13:17, 26 March 2007 (EDT)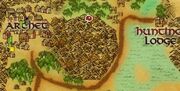 Ad blocker interference detected!
Wikia is a free-to-use site that makes money from advertising. We have a modified experience for viewers using ad blockers

Wikia is not accessible if you've made further modifications. Remove the custom ad blocker rule(s) and the page will load as expected.