Level:
09
Start:

Location:

Bestowal Dialogue:
'Asphodel keeps her farm going by selling her goods at the Farmer's Market. I made a deal with Himloc Grouse to pay double what others pay for her fresh vegetables.
'Could you go to her farm, collect the produce she means to sell, and deliver it to Himloc? Be sure to return the money to her when you are done.'

Background:
Eldo Swatmidge is a successful farmer, but he is lonely. He has sought your help to woo his neighbour, the Widow Froghorn.
Objective:
1. The Widow Froghorn's farm is on the road west and south of Eldo Swatmidge's farm.
Eldo Swatmidge asked you to collect the produce that Asphodel Froghorn means to sell
2. Himloc Grouse can usually be found in the town square of Staddle, west of the Widow Froghorn's farm.
Asphodel seems to think highly of you and has asked you to sell some of her produce to Himloc Grouse, the trader.
3. Widow Froghorn's farm is east of Staddle.
Asphodel Froghorn is waiting for the payment you received from Himloc Grouse for the sale of her vegetables. Walkthrough:

Related Quests:

Reward:
Lesser Essence Of Athelas OR Lesser Celebrant Salve
Data Entered By: --Stip 22:46, 26 March 2007 (EDT)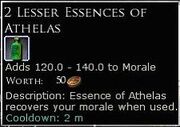 Ad blocker interference detected!
Wikia is a free-to-use site that makes money from advertising. We have a modified experience for viewers using ad blockers

Wikia is not accessible if you've made further modifications. Remove the custom ad blocker rule(s) and the page will load as expected.