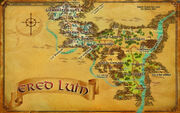 Ered Luin is the westernmost Area of Eriador, starting area for both elves and dwarves. It connects to The Shire.
When Beleriand sunk beneath the sea, the Ered Luin became the westernmost part of Middle-Earth. The Elves, under Círdan, Gil-Galad and Elrond built Mithlond, the grey havens here so the elves could sail into the west.
Locations
Edit
Settlements
Edit
Settlement: Thorin's Hall
Settlement: Noglond
Settlement: Gondamon
Settlement: Northern Barricade
Settlement: Thrasi's Lodge
Ad blocker interference detected!
Wikia is a free-to-use site that makes money from advertising. We have a modified experience for viewers using ad blockers

Wikia is not accessible if you've made further modifications. Remove the custom ad blocker rule(s) and the page will load as expected.