Level: 10
Difficulty: Solo
Location: Combe
Start: Constable Underhill
Bestowal Dialogue:
'Poor Toradan. If his words are true, his kinsmen are in great danger! This Mundol he spoke of before he passed must be warned!
'Now, I don't know exactly where this Mustering Cave is, but if Toradan warned Constable Tanglerush, then Tanglerush must know its location.
'Tanglerush is a Constable in Staddle, down the road south of Combe. You will likely find her loitering about town centre. Quickly, you must find her.'
Background:
You found Amdir -- or at least the wraith that was once Amdir -- imprisoned in the dungeons of the Blackwolds' hideout. Amdir escaped and is now stalking the Rangers in Bree-land.
Objective:
1. Constable Tanglerush is in Staddle town centre, south of Combe
As his last act, Toradan sent you to tell Constable Underhill of a message he sent to Constable Tanglerush regarding the danger Amdir might pose to his kinsmen. Underhill told you to go to Tanglerush and make certain she passed the message to Mundol.
2. Mundol is hiding at a place called the Mustering Cave on the far east side of the Midgewater Marshes, near the Midgewater Pass.
Constable Tanglerush did not find Mundol within the cave when she attempted to deliver her warning. Perhaps it is not too late to warn Mundol.
Walkthrough:

Advice:

Related Quests:

Chasing Amdir
Reward:
90c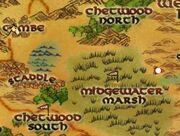 Ad blocker interference detected!
Wikia is a free-to-use site that makes money from advertising. We have a modified experience for viewers using ad blockers

Wikia is not accessible if you've made further modifications. Remove the custom ad blocker rule(s) and the page will load as expected.