Level: 11
Difficulty: Solo
Location:
Start:
Bestowal Dialogue:
'The boars in this area grow particularly large and dangerous. Never know when they might attack someone. I want you to thin their numbers and bring me ten of their heads. If you could, try not to damage the heads...they are quite the delicacy, I hear.'
Background:
Roger Hawkling assists Adso Haybank by supplying the lodge with furs and meat.
Objective:
Boars range the wilds around Adso's camp.
Roger wants you to thin the growing number of wild boars and bring him their heads. He understands they are quite a delicacy.
Walkthrough:

Advice:

Related Quests:

Reward:
90c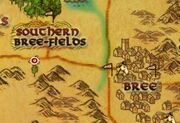 Ad blocker interference detected!
Wikia is a free-to-use site that makes money from advertising. We have a modified experience for viewers using ad blockers

Wikia is not accessible if you've made further modifications. Remove the custom ad blocker rule(s) and the page will load as expected.