Level: 42
Difficulty: Solo
Location:
Start:
Bestowal Dialogue:
'Many years ago, two Rangers named Golodir and Corunir went to Angmar to investigate rumour that Evil had arisen in the North once more. Unfortunately, we have heard nothing from them since the Angmarim raised their Orc-armies and occupied the Ram Dúath.
'I would ask you to make your way north and to seek out a place called Aughaire. This is a home to the Hillmen of the North, at least some of whom Golodir reported to be hospitable, unlike their kin in other places. If you find our two lost kindred, assure them that we have not forgotten them, and that we shall soon require their services again.
'Once you pass through the dangerous Ram Dúath to the north, you should be able to find Aughaire by heading west.'
Background:
Arohir has asked you to traverse the Ram Dúath into Angmar to seek out a place called Aughaire. Rangers named Golodir and Corunir have made this place their home, but no one has spoken to either in many years.
Objective:
The Rangers Golodir and Corunir are in the Hillman town of Aughaire, a place west of the north exit of the Ram Dúath.
Arohir has asked you to seek out the lost Rangers Golodir and Corunir who long ago were sent to Angmar.
Walkthrough:

Advice:

Related Quests:

Reward:
22s5c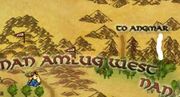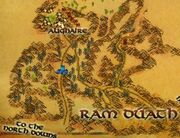 Ad blocker interference detected!
Wikia is a free-to-use site that makes money from advertising. We have a modified experience for viewers using ad blockers

Wikia is not accessible if you've made further modifications. Remove the custom ad blocker rule(s) and the page will load as expected.